If your business has a marketing campaign about the products or the branding on social media, you will have different metrics to look at. You will have to analyze data relevant to those metrics and measure the performance of the company's KPIs. It is always better to make data-driven decisions backed up by your analysis.
For example, which social network attracts more customers?  Which social network needs to reorganize the marketing campaign? What are your top-performing posts in the aspect of conversions? What social network and marketing strategy is worth your time and budget to develop it further?
In order to answer the above questions effectively, you may need to put the reviews of each social network in one place and compare those. It is a must to check the ROI of your business's
Social media campaigns.
Without proper tools, if you do it manually, this process is going to be a hectic one for sure. Thus, it is necessary to find suitable ones and get the work done effectively and leisurely.
The following 7 tools and websites for social media data analysis will be discussed in length as they stand out in the Google trends in 2022:
Hubspot Marketing
BuzzSumo
ShortStack
Supermetrics
Seobility
TapInfluence
Sprout Social
HubSpot is an easy-to-use, powerful ecosystem. HubSpot marketing is the marketing segment that can be used to analyze social media data and effectively convert more visitors into customers. It is possible to run marketing campaigns a large scale. 
HubSpot marketing provides the following features:
Helps to attract

Social media
SEO
Create Blog
Ads

Convert or transform

Create Landing pages
Automation
Email
Forms

Reporting and customizing

Attribution reporting
Salesforce integration
Custom objects
HubSpot's social media analytics tools are part of HubSpot's Marking Hub, but this facility is for HubSpot professional users, which means you have to pay for this service. These tools allow you to connect to social media networks and assist business and revenue growth. You can measure the social media campaign performance across every network, not just HubSpot. HubSpot allows you to compare the performance of multiple social media networks.
HubSpot's marketing tools offer comprehensive and expandable graphs and visuals that easily clarify specific matrixes related to social media, such as audience, session lengths, and impressions.
This means that you'll have insights into customer behavior, not just social media matrixes. It enables you to see which marketing tactics are working best for your business and learn further about your social media campaigns.
HubSpot is an excellent choice for businesses that have launched marketing campaigns on different social media networks, but still, need to configure and monitor them from a single place.
Buzz Sumo is a great social tool, that can be used for analyzing the social engagement of any post published on your social media profiles. It is possible to monitor the performance of content competing with respective industry keywords. Buzz Sumo allows you to see how your content marketing campaigns are competing with each other.
You can see how many shares your latest blog post received on Facebook, Twitter, YouTube, or Pinterest. Social media remains one of the top ways for content marketing. By analyzing social shares, you can see which types of posts receive the most engagement from the viewers and use that data to develop your own content strategy. BuzzSumo allows you to collect and understand variables in top-performing content like length, publish date, and headline type.
Creating contests on your social media undoubtedly increases the engagement of the audience with your brand. But in these contests, you will have to pick up the winner in an unbiased manner. You can use Short Stack to pick up winners for you from social media contests. Actually, from the process of picking a winner to measure the user engagement from a giveaway campaign, Short Stack is your friend.
Businesses and brands, that organize contests or giveaways frequently, don't need to struggle with selecting winners or give away presents without a clue who the winner is. You can use a dedicated contest analytical tool like ShortStack which looks at everything from entry data to long-term social media campaign performance.
By analyzing the performance of your contests with ShortStack, it is possible to see the engagement of the user and identify which types of contests work best with your audience. Other than the Social media contests in which the ShortStack is specialized, it also provides the following solutions to businesses: 
Lead Generation
Social Media Engagement
User-Generated Content Collection
Coupon Distribution
Supermetrics can be used to automatically extract data from multiple platforms such as Twitter Ads, Facebook Ads, Google Analytics, etc… and pull it into destinations such as Google Data Studio, Google Sheets, or Excel. It can be configured to set up schedule data refreshes and emails. The pain of moving Social media data into visualization platforms is eliminated by this tool. Supermetrics makes marketing analysts and business intelligence teams live. 
Supermetrics helps businesses to gain insights faster. It removes the complexity of data transfers by taking over it efficiently and reliably.
Supermetrics was started in 2009, as a result of a Google challenge to connect Google API with Excel. Currently, it serves 750,000 users globally.
With Supermetrics, you can easily demonstrate or visualize your results with less effort since all the metrics and dimensions are centralized in one location and visible on a dashboard. Which makes it easier to get decisions faster.
After you install Supermetrics on your computer, you can:
Improve your ROI on adds
Present your actionable results to stakeholders clearly
More time to spend on productive work
Avoid consistent API maintenance hazards and resource drain
Transform data from matrixes into analytics-ready data sets
To get data-driven insights
Seobility is an online SEO (Search Engine Optimization) software that can be used for website optimization.
Once you enter the URL of your website onto the search bar of Seobility web page, it completely checks your website, by crawling all linked pages. Then it reports all errors, problems with the on-page optimization, or problems regarding the page content like duplicate content, etc… . All the issues and even suggestions are displayed on a single page of the browser window.
It is important to review of your website consistently, thus each domain is constantly crawled and analyzed by Seobility to track the progress of your optimization. In case any server errors and major problems occur, the Seobility monitoring service notifies you via e-mail.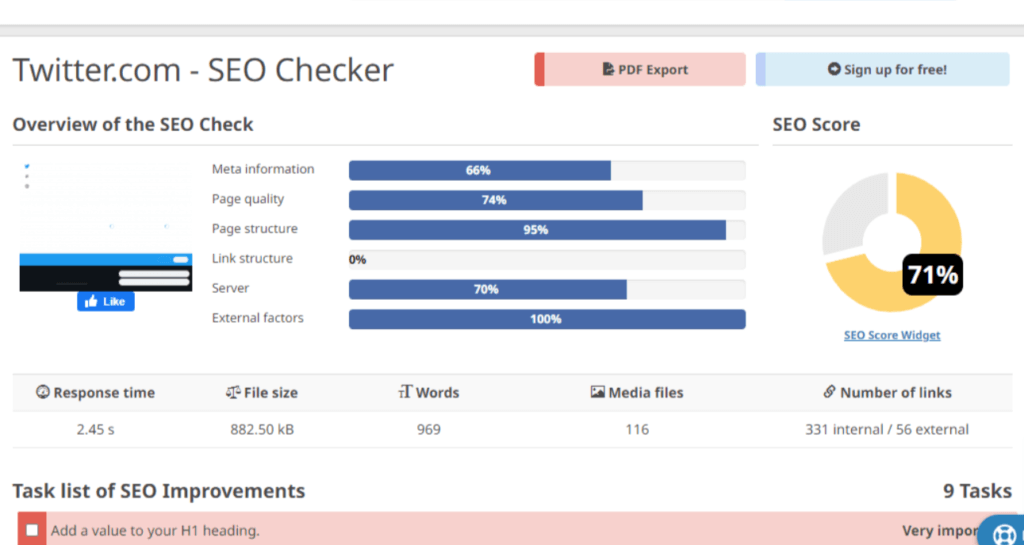 Seobility can't crawl Facebook and Instagram pages though, but it can crawl YouTube channels and Twitter pages. Anyway, it can check your social media platforms via the links on your website. 
Seobility offers a free basic package and 2 other paid packages with more features. If you want a consistent crawling and analytics of your website after each optimization and if you need to crawl many websites or domains, of course you will have to get the paid package.
Influencer marketing is, already, a new method of social media marketing. In fact, some people have made it their carrier. Influencer marketing involves two parties, a brand or a business and an online influencer, to market one of its products or services. Working with influencers, undoubtedly improve brand recognition. 
The evolution of influencer marketing has created a need for social media analytical tools specifically tailored to measure the performance of influencer marketing campaigns. TapInfluence, is such an analytics platform. This platform allows the influencers and the brands to meetup online and check each other's profiles and place bids. With its tools, you can measure the metrics such as reach, engagement rate, and the potential price tag behind any given influencer.
TapInfluence reveals relevant influencer metrics and categorizes them, so the brands can understand those potential relationships which can benefit each other and ones which doesn't make sense, prior to outreach.
TapInfluence also provides a step-by-step process to become an influencer and register brand profiles, and there is enough material to support the people who are interested in this. 
Sprout Social is another tool set that offers cross-channel social media analytics possible. You can either deep dive into the performance on a single network or easily compare results across multiple networks at once.
You can track metrics such as Facebook Page impressions, Twitter link clicks, Instagram follower growth, LinkedIn engagement, content performance on Pinterest, and more, from the same location.
Then you can quickly organize and share your information with attractive and easy-to-understand, reports which are ready to present in any forum. If you get Premium Analytics, you can create your own custom report, tailored to your organization's KPIs. 
Sprout Social comes with a range of customizable templates which you can select according to the metrics that you intend to present and to eliminate the rest.
There is enough learning material for beginners as well.  This is a powerful platform that integrates data from all social media platforms.
Sprout Social facilitates your publishing to schedule posts for Instagram, Twitter, Facebook, LinkedIn, and Pinterest. You can determine the optimal send times for posts to increase engagement with the audience. Also, make it easy to quickly respond to and manage conversations. You can monitor all your keywords and mentions in one smart inbox and manage contact views with notes, comments, and history. Likewise, Sprout Social provides features to understand your audience in respective social media networks in following aspects: Listening, Publishing, Analytics, Engagement, Advocacy 
Native tools that come with social media platforms
Social media networks provide their own tools to measure different matrixes in their respective platform. But doesn't provide tools to compare or analyze data from other social media networks. That means you will have to bounce in between social media networks in order to get data from each of them and to create the big picture.
The solution is to use third-party social media analytics tools. Then you don't have to bounce between platforms. You can see by the numbers how your campaigns are stacking up across platforms, which is very convenient, time-saving, and effective.
Wrapping up
To wrap up this blog, let's briefly talk about how can you use social media analytics tools to grow your business. The more data you collect, the accuracy of your analytical results improves. Get the maximum possible data and use all the functionality available in your selected tool in order to get the maximum ROI from your social media marketing campaigns. 
The amount of information and functionality available to the customers (Marketers and analysis) through the social media management tools is increasing. So that you, get the maximum use of it and run data-driven social media marketing campaigns on behalf of your businesses.