An innovative and potent AI technology called Auto-GPT has completely revolutionized the tech industry.
This open-source Python application is powered by GPT-4 and was created by Significant Gravitas and published on GitHub on March 30, 2023. It can carry out activities with little assistance from a human. Even though it is based on ChatGPT's structure, Auto-GPT differs from its predecessor in that it has a feature that ChatGPT does not: the ability to make judgments on its own. It may self-prompt and generate each and every prompt needed to achieve a goal.
What distinguishes Auto-GPT from Chat-GPT, and how does it operate? This blog will examine the Auto-GPT technology and how it could transform AI in the future.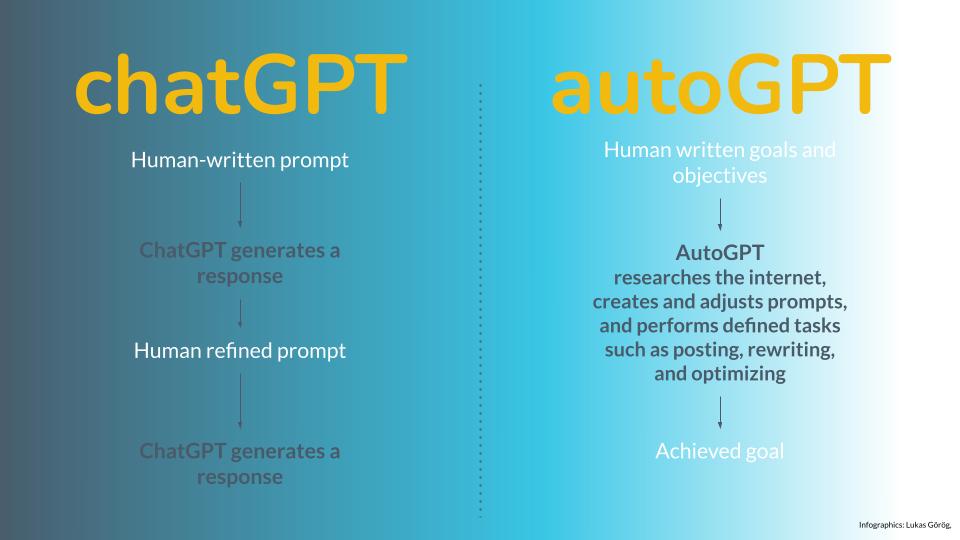 The Most Significant Differences Between ChatGPT and Auto-GPT.
Although Auto-GPT and ChatGPT are based on the same technology, their functionalities are very different. The main distinction between the two is that whereas ChatGPT can operate without the assistance of human agents, Auto-GPT can do it on its own.
For example, if you wanted to use ChatGPT to organize your wedding, you would have to ask the program specific questions such, "Help me organize my wedding" Following that, ChatGPT would produce a list of considerations you should make, such as the colour theme, location, guest lists, cuisine, and decorations. The prompt ChatGPT for each future action, such as buying dresses or sending invitations, is necessary.
Auto-GPT, in contrast, can self-prompt and address every subset of a problem without requiring human assistance. If you requested Auto-GPT to organize a wedding, for instance, it might come up with a theme, make a guest list, send out invitations, and even go shopping for dresses all by itself.
How Does Auto-GPT Works?
With the incorporation of AI agents, Auto-GPT functions similarly to ChatGPT. AI agents can be programmed to decide what to do and how to do it based on a set of rules and goals. The technology is comparable to having a personal assistant who can carry out particular activities, like making appointments or sending emails, on your behalf.
The concept of limited access guides the actions of AI agents. An AI agent is only as effective as the access provided to it through an API, just as a personal assistant may only carry out activities that fall within the parameters of its access.
Auto-GPT will ask permission after each step to ensure that the project is progressing as expected by the user.
In essence, Auto-GPT connects GPT with a companion robot that gives GPT instructions on what to do. The companion robot leverages GPT and a number of APIs to carry out the necessary steps to accomplish the intended goal after receiving instructions from the user.
How you can access Auto-GPT?
Basically, Auto-GPT consists of GPT-3.5 and GPT-4 linked with a companion bot that gives GPT-3.5 and GPT-4 instructions.
Contrary to ChatGPT, a chatbot that can be accessed through a web browser, using Auto-GPT requires specialized software and an understanding of Python. Python 3.8, an OpenAI API key, a PINECONE API key, and an ElevenLabs Key (if you want it to speak) are the minimum prerequisites. Following the thorough steps on the site, you can install and utilize Auto-GPT after setting up and obtaining all of those.
Accessing ChatGPT is significantly easier than accessing Auto-GPT, though. ChatGPT might be a better choice for you if you have simpler needs that ChatGPT can satisfy and don't want to deal with an installation procedure.
If you require assistance installing Auto-GPT, Matt Wolfe has given a brief walkthrough in this video link.
Conclusion
Recently, new apps have appeared to make Auto-GPT even simpler to use. Examples include AgentGPT and GodMode, which offer a straightforward user interface and allow users to enter their goals directly on a browser page.
It might be some time before Auto-GPT becomes widely used because it is still an experimental project. However, the technology has a lot of potential for applications in real life including podcast production, financial research, and event organization.
It's thrilling to think about how Auto-GPT might improve in the future, especially with advances in AI technology. AI agents can assist organizations and individuals in streamlining processes and more effectively achieving their objectives by making decisions on their own.
Further Readings: